France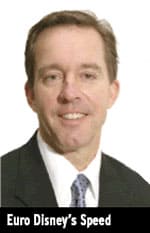 Is Euro Disney about to recover after three years of malaise? The Paris, France-based theme park-by far the largest in Europe-believes a forthcoming restructuring and fundraising will set it on its way. Investors might not be cheering just yet, though. Jeffrey Speed, CFO of Euro Disney, notes that while the reshaping of the company will position it better, profitability is still several years off. We have not put a date on when we think the company will return to profitability, he says. Clearly, management will be motivated by the changes taking place.
Those changes might be depressingly familiar to long-term investors in the company-not least parent company Walt Disney, which still owns 39% of Euro Disney. In 1994, just a few years after opening, Euro Disney was forced into a major restructuring. At that point, Prince Alwaleed Bin Talal Alsaud, the Saudi billionaire who also saved Citigroup in the early 1990s, took a 24% stake in Euro Disney. But the restructuring in 1994 provided only five years of respite. In 1999 a recapitalization of the company saw his stake drop to just 16%.
The Prince has agreed to participate in the latest refinancing of the company-a E250 million rights issue and wholesale reorganization of Euro Disney. But he is only going to take up E25 million of his entitlement to shares, leaving his stake diluted from 16% to 10%. Fortunately, Walt Disney will subscribe to the full E100 million of shares to which it is entitled.
That still leaves E125 million to be raised. Euro Disney has signed up BNP Paribas, Calyon and Ixis as bookrunners and underwriters of the rights offer to ensure it gets its money. All the banks are major creditors to Euro Disney, with Ixis parent company, CDC, being the largest bank lender. Other creditors, such as ABN AMRO, Citigroup and Natexis, are likely to emerge as additional underwriters when the deal launches next month.
For their part, CDC, Walt Disney and other lenders are substantially restructuring their loans to Euro Disney. Speed says the package amounts to a permanent cash injection of around E500 million and an increase in liquidity, involving nominal cash of almost E1.2 billion. The creditors will be hoping Euro Disney spends it wisely.

Laurence Neville