Europe
By Laurence Neville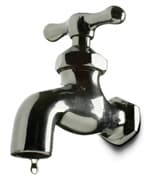 Drying up? Investors may
shun European IPOs
After months of increasing excitement among equity capital market (ECM) bankers about the prospects of a bumper first quarter of IPO issuance in Europe in 2010, events in December were a wake-up call. The withdrawal of toll road and airports firm Hochtief Concessions' €1 billion IPO—a deal described weeks earlier as a sure-fire hit—and a smaller deal from Danish renewables company Scan Energy raised concerns that investors may not be ready for the predicted cascade of new floats in 2010.
To be sure, the news of Hochtief Concessions and Scan Energy's thwarted listings came as other IPOs closed successfully: Belgian drug maker Movetis, Italian online fashion retailer Yoox and France's CFAO, which distributes autos and pharmaceutical products in Africa and raised €806 million, all gained on their debuts.
Nevertheless, Hochtief and Scan are reminders that Europe is behind the curve in the recovery of the IPO market. Dealogic figures show that by the first week of December China raised $40.85 billion, the US $15 billion and Brazil $12.68 billion compared to Europe's total of just $6.72 billion. Moreover, the failed deals indicate that if investor appetite and sensitivity to price are not judged correctly, the recovery of the IPO market could be stopped in its tracks.
The stakes are high. Société Générale's 2010 outlook predicts 30 IPOs in Europe next year—and SG's forecast is at the conservative end of predictions.
It is possible that December's events were simply a slight hitch. ECM bankers say they are receiving invitations to pitch for mandates at a level not seen in two years. Meanwhile, after a long dry spell, private-equity-backed companies are betting on an IPO exit route. Firms such as Blackstone and BC Partners have already announced their intention to float dozens of companies as soon as market conditions allow.
"The real question is how much institutional cash there will be for these deals when we're still going to see rights issues," says Tom Troubridge, partner at PricewaterhouseCoopers in London.