Europe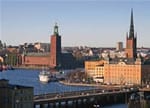 Stockholm: One of 15 knowledge hubs.
With just over two years to go, the European Commission's Lisbon Agenda initiative to transform Europe into the most competitive and dynamic knowledge-based economy in the world by 2010 appears to be failing. According to a new assessment by the EC, less than 6% of 258 European cities are deemed to be "knowledge hubs."
According to the State of the European Cities report, which was commissioned by the European Commission (EC) and compiled by economic and social development specialists ECOTEC Research & Consulting, a city's likelihood of becoming a "knowledge hub" is based on factors such as economic capacity and growth, employment rate, demographics, transport and educational background of the population. Of 258 cities analyzed by the report, just 15 cities—Amsterdam, Barcelona, Cologne, Copenhagen, Dublin, Düsseldorf, Edinburgh, Frankfurt, Hamburg, Helsinki, London, Lyon, Munich, Milan, and Stockholm—were deemed to be "knowledge hubs" and therefore likely to be more economically successful.
ECOTEC identified a number of characteristics that, when combined, placed these countries at the top of the European league. Each "knowledge hub" demonstrated: significant GDP level (65% above the EU average); good economic growth; high levels of employment and participation—including younger and older population members; a large share of the private sector as part of the economy; strong innovation and entrepreneurship; a high share of the population with a university education; high commercial and residential property prices; and excellent accessibility via a range of transport methods.
With 42.4% of its residents educated to degree level, Edinburgh leads all 258 cities by this measure. Director of ECOTEC and principal author of the report, Jan-Maarten said such advantages meant UK cities like Edinburgh were "well positioned to adjust to global change" and had a "strong foundation for the future."
Anita Hawser