NEWSMAKERS: VENEZUELA
By Paula L. Green
Everyone from consumers weary of battling rising inflation to importers wrestling with a devalued currency and foreign and domestic investors whose companies were nationalized will have a stake in the actions Nelson José Merentes Díaz takes as Venezuela's new Finance minister.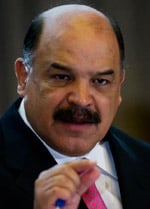 Business as usual expected under new Finance minister Nelson Merentes
Formerly the president of Venezuela's central bank, the 59-year-old Merentes was named to the country's top finance post—minister of popular power for finance—in late April by newly elected Venezuelan president Nicolas Maduro.
No one expects Merentes—who logged in two stints as Finance minister and a 14-month posting as minister of Science and Technology during the tenure of former Venezuelan president Hugo Chávez—to veer off course and suddenly change the economic model of one of South America's largest economies.
But observers of Venezuela's economic scene do see the appointment as a positive sign that the government of president Maduro will be pragmatic in economic and fiscal matters. A mathematician by training, the affable Merentes is less ideologically driven than his predecessor Jorge Giordani, a Marxist academic known as "The Monk."
In 1978, Merentes obtained a mathematics degree from the Central University of Venezuela. He secured his PhD in mathematics at the Eötvös Loránd University in Budapest, Hungary in 1991 before returning to Venezuela as a university professor. His work outside government cabinet posts included some time operating a polling firm.
Merentes, who has argued for more-flexible currency controls to improve the flow of dollars to businesses and stop the fall of the Venezuelan currency, the bolivar, in the black market, will have his work cut out for him. Even with a government devaluation of the bolivar by 32% in February, the currency has declined nearly 30% in the black market this year. The World Bank expects the Latin nation's economy to grow by less than 2% in 2013, down from 5% in 2012. Merentes will be wrestling not only with a widening fiscal deficit—part of the legacy left by the surges in government spending during the run-up to Chávez's presidential election victory in October 2012—but also an annual inflation rate that has topped 20% a year.