United States/Europe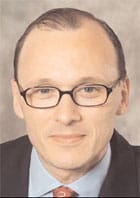 John Gibbons

With interest rates on an upward trajectory and the credit cycle reaching maturity, it may come as a surprise to discover that there is an estimated $1 trillion in trapped capital between the US and Europe sitting idle in inefficient working capital management practices. While the movement of money may be restricted in some markets that impose foreign exchange controls, the lack of visibility into a companys cash flows is an endemic problem, even among the largest and most sophisticated of companies, says John Gibbons, managing director, head of relationship management, EMEA, commercial banking, ABN Amro.
If companies managed their working capital better, it could mean a more than 15% improvement in their profit margin, he said. And while most companies believed that capital was trapped in the inventory process, Gibbons said 66% of it was tied up in accounts payable (AP) and accounts receivable (AR).
Despite the advantages of implementing more centralized global liquidity management solutions, at the annual Eurofinance International Cash & Treasury Management Conference, held in Berlin in October, ABN Amro released the findings of a survey it conducted along with BDRC, which found that 46% of corporates still managed their cash on a country-by-country basis. Another 14% of corporate treasurers surveyed indicated that despite investing in centralized liquidity management solutions, they were not using the technology. Gibbons cited the example of a European company in the top 100, which estimated that it had 1 billion in idle cash balances around the world.
Although companies spent more time on cash flow forecasting in an effort to improve working capital management, Gibbons said that the accuracy of these forecasts was less than 50% two weeks out. He encouraged companies to get more involved in their supply chain and to incentivize business lines to provide more accurate cash forecasting projections. Follow the money, he said. A lot of people are focused on the accession countries in Central & Eastern Europe, but these countries combined total GDP is less than that of the Netherlands. Dont get hung up on these countries, but focus on where you are making money. He said companies should use automated liquidity tools such as multi-bank cash concentration and cross-currency notional pooling to better manage their liquidity.

Anita Hawser