UNITED STATES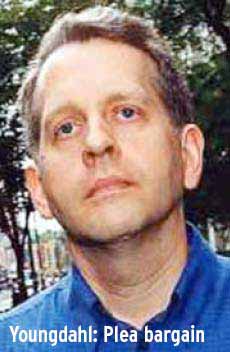 John M. Youngdahl, a former senior economist at Goldman Sachs, pleaded guilty in November to federal criminal charges, including insider trading based on advance notice of the Treasurys decision in 2001 to halt the sale of 30-year bonds.

Youngdahl tipped off Goldmans traders to the demise of the 30-year bond based on a leak from a Treasury news briefing. Under a plea bargain, he faces 33 to 41 months in prison plus millions of dollars in fines when he is sentenced on January 30, 2004.

Youngdahl, who left Goldman in June, also settled civil charges brought against him by the Securities and Exchange Commission, agreeing to a $240,000 fine without admitting or denying the SECs allegations.

The announcement that the Treasury was ending 30-year bond sales triggered the biggest rally in the government bond market in 14 years, enabling Goldman to make a quick profit of $3.8 million. The firm agreed to pay $9.3 million in September to settle SEC charges related to the matter, again without admitting or denying wrongdoing.

The case raises some interesting questions about the way in which the Treasury and other government agencies release important news. Youngdahl got his information from Peter J. Davis, a Washington consultant who regularly attended Treasury press briefings on quarterly refinancings of notes and bonds, even though he was not a reporter. The information from these briefings is embargoed until the Treasury makes its announcement public.

Davis previously pleaded guilty to felony charges of insider trading, theft of government property and conspiracy. The key question, though, appears to be why the Treasury gives anyone market-sensitive information on an embargoed basis in the age of the cell phone.

GP