Mexico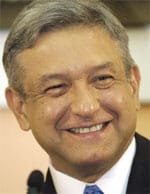 AMLO: Ready for the race

When the Mexican government moved to keep Mexico City mayor Andrs Manuel Lpez Obradorcommonly referred to by his initials, AMLOfrom seeking the presidency next year, some 250,000 Mexicans took to the streets. The outcry forced the Vicente Fox administration to back off, consolidating AMLOs role as frontrunner for the July 2006 election.
While Fox cannot seek a second term due to a reelection ban, getting AMLO, of the opposition PRD party, out of the way could have improved the ruling PAN party candidates chances. The plan was to hold AMLO in contempt of court for a 2001 case involving his failure to halt road construction on land expropriated by the city but under dispute by previous owners. The case would not have yielded criminal charges but would have kept AMLO out of the race, as Mexican law bans anyone with pending legal cases from running for president.
Polls give AMLO a 13-point lead over other hopefuls. He will resign as mayor on July 31 to run for the PRD nomination in August. A conciliatory meeting between AMLO and Fox after the government dropped its case was regarded as a virtual handover of power and eased market concerns that the political climate was deteriorating.
While some [marginal investors] have begun to reduce their exposure, I am concerned that the political drama that is just beginning will only serve to accentuate the contrast between Mexicos relatively good economic fundamentals and its precarious political environment, wrote Grey Newman, chief Latin American economist at Morgan Stanley, as Mexicos Congress voted to lift AMLOs immunity. Yet he feels the traditional economic upheaval at the end of every six-year presidential term may be a thing of the past.
If elected, AMLO faces important challenges. A World Bank study contends Mexicos governability hit a low point last year in such areas as political stability and government efficiency. A populist, AMLO wants to tackle poverty, though analysts are encouraged by the fact that central bank independence will not allow him to tweak monetary policy. Unfinished structural reforms, some feel, are also making Mexico less competitive at a time when competition from China is rising,


Antonio Guerrero