Per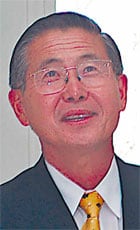 Alberto Fujimori

Former Peruvian president Alberto Fujimori, in exile in Japan since 2000, has vowed to seek re-election in next years presidential race, despite a constitutional ban that precludes him from seeking public office before 2010.
Authorities say he may have a surprise coming if he returns home. Shortly after Fujimori made his statement at a press conference in Tokyo in October, a Peruvian constitutional tribunal reaffirmed a congressional ruling that bans him from public office. Authorities say that while the former president is free to return home and has even been issued a new Peruvian passport, he will face prosecution on charges ranging from corruption and human rights abuses to drug trafficking and homicide.
The Peruvian government has unsuccessfully demanded Fujimoris extradition to face such charges. However, Tokyo has pointed to the lack of a bilateral extradition treaty and Fujimoris dual Peruvian-Japanese citizenship as reasons for ignoring Limas demands.
When a corruption scandal threatened to topple his increasingly autocratic regime five years ago, Fujimori took advantage of a trip to Brunei for an APEC summit to seek refuge in Japan. He is reported to have tendered his resignation to Congress by fax from Tokyo.
Fujimori now claims to have the support of 30% of voters. He is credited with having restored macroeconomic stability to Peru and having crushed the Shining Path guerrilla movement during his administration (1990-2000). On the other hand, critics recall how, faced with an opposition-led Congress that blocked some initiatives, he disbanded Congress and suspended the constitution.
The 61-year-old agricultural engineer and mathematician, born in Peru of Japanese immigrant parents, founded a new political party in 2003 and has since been planning his comeback. Earlier this year supporters announced plans to launch Fuji-Cola, a soft drink whose sales would help fund a re-election campaign. Fujimori says the drink will quench the thirst of popular discontent.

Antonio Guerrero