UNITED STATES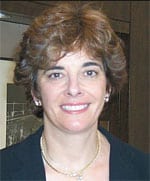 Miillllerr:Diidntt miissss aa ssttep

Heidi Miller, the new CEO of JPMorgan Chase Treasury & Security Services, says her area of responsibility will be the nerve center of the number-two US bank following its merger with Chicagobased Bank One. The transaction-processing business, which comprises treasury and cash management, custody and institutional trust, will provide the consistency of earnings that is central to the future of the bank, says Miller, former CFO of Bank One.
These core services help customers manage their working capital needs, mitigate their transactional risks and lower costs, she says. The merger enhances the value of these services and provides a huge middle-market profile within the US and a broader range of customers, Miller says. Being one of the biggest players helps us to amortize the cost of fixed assets and make sure that our technology is even better and that we offer the fullest

possible product set, she says.
The combined institution will have about $8 trillion in assets under custody. We can help these clients model their asset portfolios, Miller says. We can provide analysis and models to show what would happen if different markets change. Debunking rumors that the banks securities-services business is for sale, Miller says the talk must be coming from jealous competitors. There is nothing we have identified as a business we shouldnt be in, she says. I love all my children.
Miller, who began her career as a management trainee at Chemical Bank in 1979, has also served as CFO of Citigroup and of Priceline.com. The JPMorgan Chase-Bank One merger was completed in July 2004. This has been the easiest merger Ive been through yet, and Ive seen lots of mergers, Miller says. We put two large treasury operations together, and we havent missed a step.

Gordon Platt