Belgium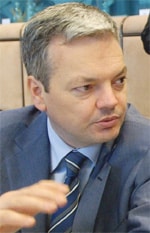 Didier Reynders: Aiming to trim deficit

Belgium has discovered a new asset class for securitization: the governments uncollected tax debt. Finance minister Didier Reynders says it is feasible for Belgium to offer the countrys difficult-to-collect tax receivables as an investment product on the financial markets on a regular basis to help meet its fiscal goals.
The government has hired NautaDutilh, a Netherlands-based international law firm, to assist with the first securitization of its outstanding unpaid taxes. JPMorgan Chase was appointed as financial adviser on the trial project, with the placement of securities scheduled for later this year.
Reynders says the first securitization will raise about $340 million and will require that an additional $52 million be invested to improve the governments ability to collect the debt. In addition to taking on the risk of not being able to collect the taxes due, the investor must be willing to invest in strengthening the tax authority.
This will be the first time that securitization of tax debts has been tried in Belgium. Portugal used a similar procedure to collect about 15% of its outstanding unpaid tax revenues in 2003. The Portuguese program followed an earlier securitization of social security claims by Italy.
The Belgian government plans to use the net proceeds from the securitizations of unpaid taxes, and from a campaign to stamp out tax fraud, to enable it to ease the tax burden on working people. The government aims to maintain a balanced budget this year as required by the Stability and Growth Pact. Belgium is slowly reducing its debt ratio, which currently stands at a still-high 96% of gross domestic product.
The governments long-range budget program seeks to reduce the fiscal deficit and secure future financing for the social security and welfare systems in the face of an aging population.


Gordon Platt