United States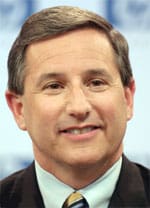 Mark Hurd

Mark Hurd, chief executive and president of Hewlett-Packard, took the reins at the Palo Alto, California-based computer firm only at the end of March, but already he is being given credit by some investors for turning the company around. HPs stock rose sharply May 18 after it reported earnings that were one cent ahead of expectations.
In his inaugural call with analysts, the straight-shooting Hurd, former CEO of NCR, which was once known as National Cash Register, acknowledged that HPs overall performance leaves room for improvement. But he left no doubt that he intends to get that improvement, even if it means letting more workers go and sending more jobs offshore.
HP in February fired Carly Fiorina as chairman and CEO for failing to cut costs and boost profits fast enough following the acquisition of PC-maker Compaq.
Whether Hurd will be able to work the same magic at HP that he did at smaller NCR, whose stock price tripled under his stewardship, remains to be seen. One key will be reviving HPs storage business, Hurd says. New products, including the companys first virtual tape library, offer some reason for hope in this regard. But there are no quick fixes, Hurd says.
He has yet to reveal whether he will spin off the companys printer or PC units and concentrate on data warehousing. The broad outlines of the new HP remain murky, and some investors appear to be jumping to conclusions.
If HP does manage to make a comeback, however, it could prove just how much difference a CEO can really make. Optimism prevails for now, but major restructurings dont always go smoothly. Hurd needs to take advantage of his honeymoon period to make some tough decisions, and many are betting he will do just that.

Gordon Platt