United States/United Kingdom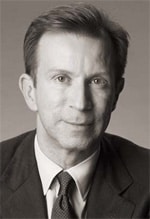 Studzinski: Going private

John Studzinski,Jwho has toiled for the past three years to turn Britains HSBC into a major investment bank, will join leading private investment and advisory firm the Blackstone Group this fall.
"The opportunity to work in the very different environment of a private partnership, helping to develop what is already an outstandingly successful business, was Studzinski: Going private something I found irresistibly attractive," Studzinski said in a release by Blackstone announcing his appointment. His primary role as a senior managing director and member of the firms executive committee will be to oversee Blackstones advisory business in the United States and Europe. The Boston-born banker with an MBA from the University of Chicago will divide his time between London, where he has been a resident since 1984, and New York.
While Studzinskis new environment may be different from that at HSBC, his planned move comes at a time when the traditional distinction between private equity firms and investment banks is blurring. The participation of private equity firms in deal-making has increased sharply in recent years, as the firms have joined together in "club" deals, forming consortia that are virtually indistinguishable from investment banks.
Stephen Schwarzman, chairman, CEO and co-founder of Blackstone, says Studzinskis experience in trans-Atlantic investment banking will be invaluable in accelerating the growth of the firms advisory business. Before joining HSBC, Studzinski worked at Morgan Stanley for 22 years, becoming head of investment banking. Former HSBC chairman John Bond, who retired last month to become chairman of Vodafone, recruited Studzinski in 2003 to join the British bank, which has invested heavily to boost its investment banking business. HSBC re-organized the business in February from four divisions into three, but at the time kept Studzinski and Stuart Gulliver as co-heads of corporate, investment banking and markets.

Gordon Platt