NEWSMAKERS: ICELAND
By Valentina Pasquali
Back to the future is the theme in Iceland after voters rejected the austerity policies of the left-of-center government in power for the past four years and reinstalled the same center-right coalition that presided over the country in the run-up to the recent financial crisis.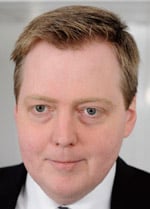 Euroskeptic Gunnlaugsson likely to reverse pro-EU stance of predecessors
"The election results highlight that, despite Iceland's recent recovery from the worst crisis in modern history, popular discontent over the economic situation still runs high," says Diego Iscaro, senior economist at IHS Global Insight.
Heading the new Icelandic government is Sigmundur Davíð Gunnlaugsson of the centrist Progressive Party (PP), who has been chair of his party since 2009 and is, at only 38, one of the youngest prime ministers in the world. Gunnlaugsson has promised to focus on the troubled finances of Icelandic households, which, at the peak of the boom, borrowed in foreign currencies or via loans indexed to inflation and now owe more than they originally borrowed. The PP has proposed a write-down of 20% of mortgages. However, analysts believe this idea, which even the PP's coalition partners in the conservative Independence Party (IP) have called "irresponsible," is unlikely to go anywhere. "Universal mortgage debt forgiveness would be costly without benefiting the most distressed households," says Hafsteinn Hauksson, an economist at Arion Bank in Reykjavík.
The revamped alliance of the PP and the IP has pledged to implement low-tax, pro-growth policies and to take a harsher stance on foreign investors than its predecessors.
Gunnlaugsson is also in favor of lifting capital controls implemented in 2008 to avoid a crash of the Icelandic króna that remain in place today. "This may take time," says IHS's Iscaro. "Króna holdings by foreign investors are still high, and the government will have to be careful not to trigger a collapse of the exchange rate."
Finally, Gunnlaugsson and his IP allies are euroskeptics and likely to depart from the pro–EU policies of the previous government, which had launched membership talks. Nevertheless, some negotiations will continue. "Polls show Icelanders oppose joining the EU but favor continuing the talks because they want to know whether the EU is unwilling to give Iceland important exemptions from its common fishing policy," says Stefanía Óskarsdóttir, political science professor at the University of Iceland. Fishing is one of Iceland's key economic engines.