India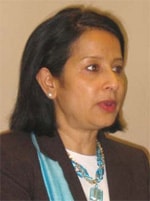 Nanda: Controlling

spread of AIDS makes

good business sense

Three US-based global organizationsincluding the US-India Business Councilwant to make sure that Indias HIV/AIDS epidemic doesnt eventually deter companies from investing in one of the worlds fastest-growing economies. India now has the highest number of HIV infections in the world, with about 5.7 million people living with HIV/AIDS, according to estimates by UNAIDS, the Joint United Nations Program on HIV/AIDS. Yet with more than 1 billion people, the Southeast Asian countrys prevalence rate for adults between 15 and 49 years of age stands at 0.9%. Thats less than South Africa, which has nearly 19% of its population infected and the sixth-highest prevalence of HIV/AIDS in the world, according to a 2005 UNAIDS report.
Yet Indian officials are worried about the social and economic impact if the virus is allowed to spread unchecked. A recent study by the National Council of Applied Economic Research, a think-tank in New Delhi, shows the cost of an epidemic could trim almost one full percentage point from Indias annual economic growth, which has logged in at 8% in recent years.
It makes good business sense, says Rema Nanda, director of public health at the American India Foundation, a nonprofit foundation created to accelerate social and economic change in India. Theres a co-relationship between a healthy workforce and a healthy profit margin. This is an opportunity to ramp up education so the problem doesnt spiral out of control.
The US-India Business Council wants US companies operating in India to adopt workplace policies that provide education on the prevention of the deadly disease as well as workplace policies for the treatment and protection of employees already infected. Along with the American India Foundation and the AIDS Project Los Angeles, the council raised nearly $600,000 at a gala fundraiser held in New York City last month.
Nanda says the funds raised will be funneled to non-governmental organizations in India that can provide both educational programs as well as prevention and treatment services.


Paula L. Green