India / united states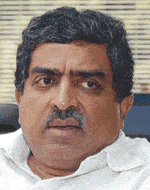 Infosys CEO Nandan

M. Nilekani

The first Indian company to trade on the Nasdaq in 1999, IT services company Infosys is expected to enter the elite Nasdaq 100 index when it issues 30 million ADRs. Bundeep Rangar, chairman of Indian advisory firm IndusView, says Infosys plans to convert $1.5 billion worth of stock into ADRs will be the largest-ever overseas offering by an Indian company and will make the IT services company eligible for entry into the Nasdaq 100. Annual additions and deletions to the Nasdaq 100 are publicly announced in early December. The index includes tech luminaries such as Cisco, Apple, Oracle and Google.
Infosys shareholders approved the issuance of 30 million ADRs in early November, and at the time chief financial officer V. Balakrishnan was quoted as saying the issuance was aimed at increasing Infosys brand equity in the US, which is the largest IT spender. In a symbolic gesture, which perhaps demonstrates the importance of the Indian company to the Nasdaq, earlier this year for the first time ever the technology exchange opened its market remotely from India. Infosys executives including president and CEO Nandan M. Nilekani rang the opening bell remotely from Infosys Global Education Center in Mysore, India.
Commenting on the ADR issuance, Rangar of IndusView stated that apart from increasing its US free float and making it eligible for entry into the Nasdaq 100, the offer would enable global investors to partake in the phenomenal growth the company has demonstrated recently.
Despite speculation that some of the shine had gone off offshore outsourcing, Infosys posted second quarter 2006 revenues of $746 million, an increase of 42% compared with the same period the previous year. It also added 45 new customers. Nilekani says robust organic growth and strategic investments have helped it grow faster in a flat world. He expects the company to cross $3 billion in revenues this fiscal year. According to Morgan Stanley research reports, Indian software firms should show a revenue growth rate of approximately 35% over the next two years compared to a rate of 6% for their peers.

Anita Hawser