Saudi Arabia / Dubai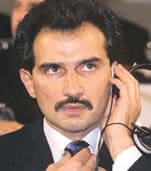 Prince Alwaleed bin Talal Alsaud

Not content with saving Citigroup and Euro Disney in the 1990s with multi-million-dollar investments, renowned Saudi Arabian investor Prince Alwaleed bin Talal Alsaud turned his attention closer to home with an impressive $397.2 million IPO for Kingdom Hotel Investments in March. While the success of the IPO was never in doubt given his investment savvy, the long-term repercussions of his choice of the new Dubai International Financial Exchange (DIFX) for the listing could be huge.
Kingdom Hotel Investments, which is controlled by the Prince, gained 7.6% on its debut following a 14 times oversubscription for its Deutsche Bank- and Morgan Stanley-led 42.9 million share offer. In that sense, the deal merely highlighted the exceptional appetite of investors for the Middle East. But what was notable about the deal was the hugearound two-thirdsallocation to investors outside the GCC (Cooperation Council for the Arab States of the Gulf) region. Kuwait, Qatar, Oman, Saudi Arabia, Bahrain and United Arab Emirates are members of the GCC.
The wave of IPOs in the GCC in the past two years has been well documented. In 2005 there were 25 IPOs in the region compared to 12 in 2004, while the average IPO gain in the GCC states in 2005 was 300%, as stock markets in the region returned 92% growth. However, international investors have been all but barred from GCC exchanges and instead have focused on strong but less attractive stock markets such as Egypt, Morocco and Lebanon.
While the listing of Kingdom Hotel Investments was undoubtedly a boost for DIFX, just 15% of the deal was allocated in the form of DIFX shares; the rest was sold as London-listed global depositary receipts. This is partly because the exchange is so new: Even enthusiasts admit that it is still the early days for Dubai. Nevertheless, the deal could herald the beginning of a greater involvement in the GCCand the broader Middle East regionby international investors. There is already a queue of banks waiting to sign up to the exchange, and DIFX has estimated that as many as 15 companies could list this year.

Laurence Neville