United states


The Tax Meagiure could attract $300 billion back into the US economy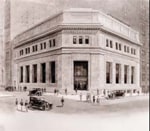 23 Wall Street in 1914
When the Morgan bank building was completed in 1914 at the southeast corner of Wall Street and Broad Street, it was considered redundant to mark the Italian Renaissance-style edifice with its celebrated owner's name.
The sturdy landmark at 23 Wall Street was known to all.The building withstood a nearby bomb blast on September 16, 1920 that killed 38 people and injured hundreds more. The Morgan partners decided to leave the small holes from the blast in place in the stonework for all to see.
Now the famous structure has been sold, along with an adjoining building at 15 Broad Street, to a real estate developer for $105 million.The site was being considered as the location for a new trading complex for the New York Stock Exchange, including a 50-story skyscraper, but that plan was abandoned following the events of September 11, 2001.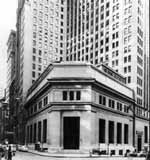 and in 1964

A.I. & Boymelgreen, the new owner, plans to spend $300 million to convert the buildings into as many as 500 apartments, as well as offices and retail stores.
JPMorgan moved its own headquarters into a new 47-story building at 60 Wall Street in 1989, before its merger with Chase Manhattan in 2000. Deutsche Bank bought the building at 60 Wall in April 2001 for about $600 million and announced in December 2002 that it was moving its US headquarters to the space in Lower Manhattan. But in a further sign of how things are changing downtown, Deutsche staffers are reportedly griping about the lack of shops and takeout joints at the bottom of the Island.

Gordon Platt


ARCHER TAKES AIM AT TAX CODE HE HELPED WRITE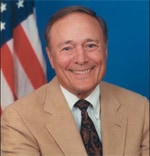 Bill Archer

The $350 billion of tax cuts and credits passed by Congress ahead of the Memorial Day recess could boost US growth somewhat, but lawmakers missed an opportunity to provide a stronger stimulus to capital spending.
Hundreds of billions of dollars in offshore profits of US corporations are sitting in passive investments overseas because the US tax code subjects those earnings to taxes of up to 35% when they are repatriated.
Bill Archer, the former Republican chairman of the House tax-writing committee, wrote some of the laws that enabled those huge pools of cash to build up. Now, as a senior tax advisor for PriceWaterhouseCoopers in Washington, he is heading a coalition of US multinationals that want to bring those funds back home.
Bill Archer, the former Republican chairman of the House tax-writing committee, wrote some of the laws that enabled those huge pools of cash to build up. Now, as a senior tax advisor for PriceWaterhouseCoopers in Washington, he is heading a coalition of US multinationals that want to bring those funds back home.
Although the provision was struck from this years tax-cut legislation, it still could be attached to an international tax-reform bill being drafted by House Ways and Means Committee Chairman William Thomas. JPMorgan Securities estimates the measure could attract $300 billion back to the US economy.
Congress is under pressure to reform the tax treatment of US companies before this fall. Thats when the European Union could impose $4 billion in trade sanctions as the result of a World Trade Organization ruling that the US Extra-territorial Income regime that replaced foreign sales corporations is an illegal export subsidy. Legislators on both sides of the aisle believe the time is ripe to simplify and reform US tax and trade laws and to shut down offshore shelters.

GP


KOSOVO


PRISTINA CALLING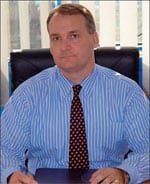 Steven Grunerud

Call it frontier banking. In May, Austriabased Raiffeisen Bank said it was setting up a bank in Kosovo, the rebel Serbian province thats emerged from bitter ethnic strife. Kosovo is still racked by crime and rivalry between Serbs and ethnic Albanians bubbles beneath the surface; more than a year after the UN Mission in Kosovo (UNMIK) hoped to resolve the final status of the autonomous Balkan province, theres still no near-term solution.
With a population of under two million and an estimated 2001 nominal GDP of just 880 per head, Kosovo doesnt yet offer rich pickings. But Raiffeisen Kosovo CEO Steven Grunerud is optimistic. At the end of February 2003 there were over 110 million of commercial loan assets in the provinces banks, he says, compared to just 20 million at the end of 2001.Im estimating at least 160 to 180 million of commercial loan assets in the system by the end of this year, says Grunerud.
Gruneruds immediate target is Micro Enterprise Bank, which dominates banking in the capital Pristina. RBKO has been created by the majority purchase of the American Bank of Kosovo, previously wholly owned by the US Agency for International Development (USAid).
Many Kosovans have long worked abroad in countries such as Germany, sending back between 500 to 700 million each year; Grunerud hopes to challenge MEBs Western Union partnership by offering alternative cash wiring services. A little further up the banking tree, Grunderud aims to issue the provinces first visa debit card later this year.
The provinces uncertain status could be a problem if you really wanted it to, says Grunerud, but one way or another Kosovo isnt going to disappear.

Benjamin Beasley-Murray


UNITED KINGDOM


COMING OUT EVENS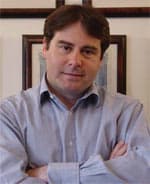 Bertrand Lipworth

Getting to the party late can sometimes pay. Paradigma techoriented investment company that listed on the London Stock Exchange right at the start of the bear market in tech shareshas returned to shareholders the cash it raised in March 2000, after failing to make a single investment
When KPMG finishes the voluntary solvent liquidation this fall, backers including Terry Semel (CEO of Yahoo), the Bahamas-based financier Joe Lewis and Michael Milken (of junk bond infamy) will join a select grouptech investors that got their money back.
Finding the right deal was like trying to catch a spinning knife by its handle, says Paradigms executive director Bertrand Lipworth.With the relentless fall of the markets in that period,we could have ended up losing our fingers.
The company first hoped to put start-up venture capital into technology, media and communications projects, but then shifted strategy to find a mature firm for a reverse takeover. We looked at in excess of 600 possible acquisitions or investments, says Lipworth,but there are very few that I regret not doing. Companies were either confident of doing IPOs within the coming year or simply priced themselves unrealistically.
Paradigm shares rose to six times their float value at one stage but backers will have to settle for a more meager returnthe company expects to give back around 1 million more than the initial 21.4 million placement.The stakes became very high and we could not afford to do the wrong deal, says Lipman,so the preferred option was to return shareholders money intact.

BBM