United Kingdom/Hong Kong
By Jonathan Gregson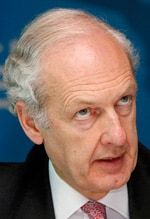 Bolton: China is in an investment "sweet spot"
Not so very long ago, City of London folk looked down their noses at those bankers, entrepreneurs and businessmen who sought their fortunes in the Orient. They were collectively known by the acronym FILTH, which stood for "Failed In London, Try Hong Kong." No longer, for investing in China is all the rage within the Square Mile. The largest UK-based life assurance company, Prudential, has launched a $35 billion bid for AIG's life businesses in Asia—of which China is the jewel in the crown—risking investors' wrath over the highly dilutive rights issue needed to fund it.
At the same time, HSBC's chief executive, Michael Geoghegan, is moving to Hong Kong, as is one of the City's most fêted fund managers, Anthony Bolton, who has come out of retirement to head up the new £600 million ($1 billion) Fidelity China Special Situations Fund.
Veteran stock picker Bolton has a huge following among UK private investors, having notched up average returns of 19.5% over each of the 18 years he was manager of the Fidelity Special Situations Fund, before his timely withdrawal at the peak of the market in late 2007. He describes China as "the investment opportunity of the next decade," pointing to average GDP growth of 10% and its arrival at the investment "sweet spot" where per capita income rises sufficiently to fuel increasing consumption.
Other City pundits are not so convinced—least of all about the fund's launch timing, which they say is geared more to small UK investors seeking tax breaks than to whether now is the right time to be investing in Chinese securities.
Many observers argue that China is looking very much like a bubble, with its continuing growth fueled by unsustainable levels of state-directed bank lending, with much of this going into fixed investments that will only increase existing levels of overcapacity.
There are plenty who doubt whether Bolton's undoubted talents at stock picking in UK and European markets can be transferred successfully to China's less transparent, more momentum-driven exchanges. Some suggest that Bolton's presence is just "window-dressing" on what is basically a macro-play.