Brazil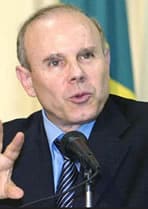 Guido Mantega:


Reassuring investors

Brazilian finance minister Guido Mantega, sworn in on March 28, is sitting firmly on the proverbial hot seat. His predecessor, Antonio Palocci, was forced to step down amid a corruption scandal. Yet with Palocci credited with masterminding the nation's economic recovery, all eyes are now on Mantegawho had openly criticized Palocci's tight monetary policyto show he can do better.
Mantega, who blamed Palocci's push for high interest rates to curb inflation as the cause for Brazil's economic slowdown, has vowed to push rates lower to spark growth. The central bank's Selic benchmark rate hit a record high 19.5% last year before being cut to 16.75% in March, with market analysts predicting a decline to 14% by year-end. Mantega expects lower rates to contribute to a 4%-4.5% GDP expansion in 2006, after 2005's meager 2.3%, though market analysts are forecasting a more conservative 3.5% growth rate.
Mantega's first policy move as finance minister on March 31 was to cut the BNDES development bank's long-term lending rate, available to local corporates, to a record low 8.15%. Prior to heading the ministry, Mantega, a 56-year-old Italian-born economist, had been at the BNDES's helm and had already been planning minister under president Luiz Incio Lula da Silva.
Palocci's exit caused initial market jitters, as some feared Mantega, a long-time Lula ally and ruling Workers' Party member, would abandon his predecessor's fiscal orthodoxy, boosting government spending to support Lula's reelection bid in October. However, Mantega dispelled concerns by vowing to maintain spending controls and keep inflation in check. The government has reaffirmed its 4.5% inflation and 4.25% budget surplus targets for 2006.
"Minister Palocci's resignation does not hurt Brazil's credit rating or change the underlying economic policies or conditions in the country," says Standard & Poor's credit analyst Lisa Schineller. "Finance minister Palocci's policies embodied prudence, but, in our view, this was government policy and not the minister's personal strategy."

Antonio Guerrero