UNITED STATES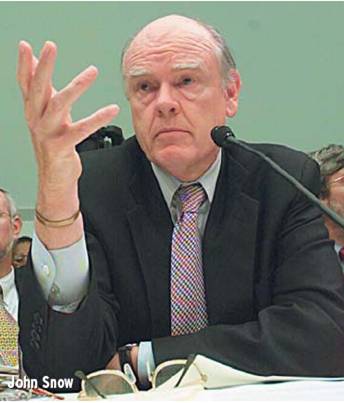 US treasury secretary John Snow stumbled into a storm in late October after suggesting to a British newspaper that US interest rates were headed higher. The treasury chief said Washington would welcome higher rates because they would underline the strength of the US economy. Snow said he would be frustrated and concerned if rates didnt rise and dismissed suggestions that the Federal Reserve would not raise rates in a presidential election year.
Although treasury and White House officials moved quickly to clarify Snows remarks to the Times of London newspaper, the cat was out of the bag. Economists wondered why Snow was venturing into the Feds bailiwick by commenting on monetary policy.They also suggested he may have shot himself in the foot: His remarks sent the dollar higher, which seemingly conflicted with his earlier attempt to persuade Asian nations, particularly Japan and China, to allow their currencies to rise.The dollar had previously fallen sharply following a statement issued in Dubai in late September by finance ministers of the Group of Seven industrial nations calling for greater flexibility in exchange rates.Although Snow hailed the G-7 statement as a milestone, he told the Times of London that he never intended to talk the dollar down.The milestone, he explained, was the G-7 agreement to stimulate domestically led growth.
Analysts say Snows remarks about the dollar were an attempt at damage control.With the US economic recovery apparently catching hold, there is less need to seek extra stimulus through a weaker dollar.The treasury may have realized that the weak-dollar tactic would risk scaring foreign investors away from financing the large US current account deficit.

Gordon Platt