RUSSIA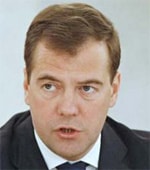 Medvedev: Seemingly helpless in the face of a stock market rout.
Can Russia's president Dmitry Medvedev save the country's financial markets? In the second week of September he declared that it was "within the power of the government" to reverse the Russian stocks' losses this year. He was backed up by finance minister Alexei Kudrin, who said that Russia could use money from its national wealth and pension funds—amounting to more than $170 billion—to buy Russian shares.
The challenge is huge. By September 12 the RTS index had lost 41.5% since January. Four days later, despite heavy intervention by the authorities, the market fell by 20%—its biggest one-day fall since the crisis of 1998. The ruble, which until August was a one-way bet, went into free-fall while the cost of insuring against default by Russian companies is roughly 60% more than at the beginning of the year. An estimated $30 billion in investment capital has left the country since August.
Observers say this is a crisis of confidence rather than economics. Russia's oil and commodity-dependent economy remains in good shape despite sharp price falls. GDP is still expected to grow by 6% this year—down on 2007's 8.1% but still well above the OECD's prediction of 1.4% for the G-7 nations. Russia's military actions in neighboring Georgia in August has clearly had catastrophic effects (see full story, page 37). Relations with the West have reached a new low, prompting talk of a new Cold War, and the EU is currently considering sanctions against Russia. But more important, international investors appear to have had enough of the Kremlin's interference in business.
The rapid slide of the stock market and the ruble began with prime minister Vladimir Putin's condemnation of coal mining company Mechel at the end of July. Putin criticized the company's domestic pricing and threatened to "send doctors" to examine the company's owners.
Investors have endured the expropriation of oil giant Yukos's assets and posturing on energy firm TNK-BP. But as the global economic slowdown continues, the Kremlin's behavior may have become too erratic for comfort.

Laurence Neville