EUROPE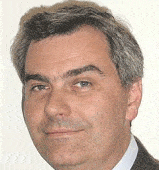 Derain: Accuracy

is the secret

With the pace of corporate M&A; showing no signs of abating, a study of more than 200 European deals in the past two years indicates that few mergersjust 9%, in factare deemed to be completely successful. According to Thomson Financial, last year M&A; deals in Europe topped $1.35 trillion, and this trend shows no signs of abating, with a number of deals being negotiated between companies in the banking and financial services space as well as private equity firms raising the competitive stakes in cross-border M&A.;
The ballooning M&A; trend is driven by companies appetite for system consolidation and financial economies of scale. Yet, according to consulting firm Hay Group, most companies are not extracting maximum value from M&A; deals because they are failing to measure intangible assets such as the impact on human capital, business culture and corporate governance.
Hay Groups report, entitled Dangerous Liaisons: Mergers and AcquisitionsThe Integration Game, found that more than 90% of corporate mergers and acquisitions fell short of expectations because of companies overemphasis on financial and systems due diligence.
Almost 60% of senior business leaders with M&A; experience conceded that their over-prioritizing of systems integration resulted in insufficient focus on intangible assets such as cultural integration, which increased the risk of failure. Most executives (70%) blamed this on difficulties in obtaining sufficient intelligence on corporate culture and the human capital of target M&A; companies.
However, Hay Group concluded that while companies paid lip service to auditing and integrating intangible assets, as many as 70% failed to prioritize these assets, and only 27% analyzed the cultural compatibility of firms to be merged, with just 22% conducting a human capital audit.
The secret of successful merger strategy lies in gaining an accurate picture of the target companys cultural, human and structural assets, says David Derain, European M&A; director, Hay Group. Failing to take these factors into account when planning and implementing a merger will fail to deliver against [companies] objectives.


Anita Hawser