MEXICO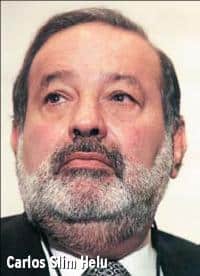 Despite a strong recovery in Latin American stocks this year, the regions stock valuations remain cheap by international standards. With foreign investors staying on the sidelines, opportunistic local market players are increasingly taking advantage of buy opportunities at home.
Mexican billionaire Carlos Slim HeluLatin Americas wealthiest person, with an estimated $7.4 billion fortune has gone on a shopping spree and set his sights on undervalued telecom shares to expand his communications empire. Slim entered the major leagues when he acquired Mexicos privatized Telmex telecom monopoly in 1990.
His America Movil wireless provider, a Telmex spin-off, is Latin Americas largest cellular company, with 36 million subscribers throughout the region. Slim has acquired stakes in several telecom and wireless companies this year, including a 51% stake in El Salvadors CTE, controlling stakes in Brazils BSE and BCP, a 95% interest in Colombias Celcaribe, and the remaining 20% stake in Ecuadors Conecel. He also exercised an option to acquire Argentinas CTI cellular company.
Although Slims Grupo Carso conglomerate is involved in a variety of business sectors, theres good reason for his focus on mobile telephony. The mobile market is one of Latin Americas most attractive service sectors, with total service revenues increasing from $20 billion in 2002 to $42 billion by 2006, says a report by The Yankee Group.
It is no surprise that Slim was welcomed as a dignitary during a recent visit to Argentina and Brazil, where he held private meetings with presidents Nestor Kirchner and Luis Inacio Lula da Silva, respectively. Local governments hope his deep pockets and heavy spending will support their economic recovery efforts.
Other Latin American top investors may soon be out shopping before valuations rebound. Slim reportedly convened a secret summit of the regions billionaires and millionaires earlier this year in Mexico City, with social development and investment strategies among topics on the agenda.

Santiago Fittipaldi