UNITED KINGDOM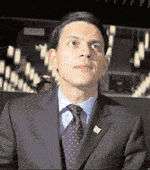 Miliband: The European Union should ontinue to expand to the east
The United Kingdom's foreign secretary, David Miliband, says that the European Union should gradually expand further into Eastern Europe, including Russia, as well as into North Africa and the Middle East, but that it is not destined to become a superpower like the United States. In his first major speech on Britain's relationship with the rest of Europe, he said the EU could be a "model power of regional cooperation."
Miliband was speaking last month at the College of Europe in Bruges, Belgium, where former UK prime minister Margaret Thatcher almost 20 years earlier said it would be folly to try to fit the nations of Europe into "some sort of identikit European personality." Miliband's pro-Europe remarks were toned down somewhat by 10 Downing Street but managed to convey a message that promoting shared values of free trade, energy security, protecting the environment and fighting religious extremism gave the EU a new "raison d'être."
Miliband did not mention monetary union, nor did he hint at any change in the UK's insistence on maintaining its own separate currency and monetary policy. His comments came at a time when the success of the euro is increasing pressure to create a global currency (see story, page 31).
The British foreign secretary said the EU should create a multilateral free-trade zone around its periphery that would be a version of the European Free Trade Association and that would serve as a stepping-stone to eventual EU membership. He said the European Union must "keep our promises to Turkey" to avoid a deep and dangerous divide between the East and the West.
Miliband also said European nations need to improve their capabilities so they are able to extend military support to places such as Darfur to help solve problems of unwanted migration.
Gordon Platt