United Kingdom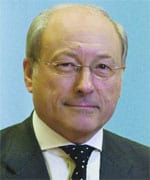 Sir Roy: Lets rip

Emotions flared in the UK last month when US billionaire Malcolm Glazer, owner of the Florida-based Tampa Bay Buccaneers football team, gained control of Manchester United, the revered British soccer club.
Sir Roy Gardner, who chairs Man U and whose day job is CEO of Centrica, the parent company of British Gas, let rip. He vowed to cut his ties with JPMorgan Chase because of the US investment banks role in financing Glazers bid. JPMorgan provided the $500 million debt facility that Glazer used to buy out J.P. McManus and John Magnier, the Irish horseracing tycoons who held a 28.7% stake in United. Added to his previous holdings and recently acquired shares, that gave Glazer 77% of the club idolized by his three sons.
Sir Roy says JPMorgan had a conflict of interest in the transaction as a result of its recent merger with Cazenove, the UK investment bank that advised Man U on the other side of the deal. Cazenove partnered with JPMorgan to gain access to the US firms capital so that it could play in the big leagues and try to become the UKs leading investment bank.
The Glazer deal will make Manchester United the worlds most-valuable sports franchise, beating out the New York Yankees baseball team.
Perry Capital and Och-Ziff, two of the hedge funds that helped Glazer pull off the $1.5 billion takeover, are connected to The Childrens Investment fund, or TCI. London-based TCI led the campaign that ousted chief executive Werner Seifert from the Deutsche Boerse, along with chairman Rolf Breuer, who agreed to leave by the end of this year. TCI was instrumental in forcing the Deutsche Boerse to abandon its unpopular bid for the London Stock Exchange. Unlike Man U, apparently, the LSE was not for sale.



Gordon Platt