United states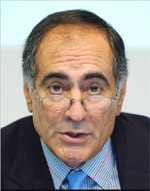 Still looking: Morgan Stanleys John Mack

John Mack, CEO of Morgan Stanley, who took over the firm last June following the ouster of Philip Purcell, made it clear that major acquisitions would be a significant part of his game plan for reinvigorating the company. Last November Morgan Stanley offered to buy hedge-fund manager FrontPoint Partners, but the deal fell through because the price was too high. Now Mack has let another big target slip away.
BlackRock, one of the largest investment management firms in the United States, agreed last month to combine with the asset management business of Merrill Lynch to create an independent company with nearly $1 trillion in assets under management. Two weeks earlier, Mack broke off talks to buy a controlling stake in BlackRock, after failing to agree on a price with Pittsburgh-based PNC Financial, which holds 70% of BlackRocks stock.
Merrill Lynch agreed to sell its asset management business to BlackRock for a 49.8% stake in the combined entity. Spinning off the asset management segment reduces the

perceived or real conflicts of interest that may occur when advisers sell products that are sponsored by their own firms, says Fitch Ratings, which affirmed Merrill Lynchs ratings after the announcement. Stan ONeal, chairman and CEO of Merrill Lynch, says, We will gain what amounts to a half-interest in a firm twice the size of our unit, with enhanced growth prospects.
BlackRock CEO and chairman Laurence D. Fink will keep those posts in the combined firm. Fink was one of the people wooed by Morgan Stanley to succeed Purcell last year, but he told the search committee that Mack would be a better choice. Meanwhile, look for Mack to make a significant acquisition of an asset manager before too long, if he can find one at the right price.

Gordon Platt