SRI LANKA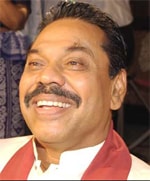 Mahinda Rajapakse

Sri Lankas newly appointed finance minister Sarath Amunugama and Prime Minister Mahinda Rajapakse have already gone on record saying the month-old government of the United Peoples Freedom Alliance does not see privatization as the way to solve the countrys financial woes.That means that the plans by the previous United National Party government led by former Prime Minister Ranil Wickremesingheto sell pieces of the countrys banks, railways and other sectors have ground to a halt. Prime Minister Rajapakse, a lawyer who is regarded as a politically savvy moderate with a reputation as a reasonable guy, has even said he is undecided on whether to move ahead with the planned sale of the governments remaining portion of Sri Lanka Telecom, the countrys largest telephone company. Japans Nippon Telegraph & Telephone has owned a 35.2% stake in the company since 1997a government sale made under the administration of the present Sri Lankan president, Chandrika Kumaratunga.
Since President Kumaratunga seized the ministries of defense, interior and media in November 2003 and dissolved Parliament and called for snap elections less than three months later in February, the Colombo Stock Exchange has been volatile as investors remain wary. But some financial analysts in Sri Lankas capital Colombo say its too early to tell if the auction block will remain shut.
Different statements have been made to different audiences, says Hasitha Premaratne,manager of research at Hatton National Bank Stockholders.Its difficult to know what they mean.
A former civil servant, cabinet minister and sociologist by training,Amunugama has no clear-cut financial background. But thats not unusual for this nation, which was embroiled in a civil war for nearly 20 years.There havent been many finance ministers with finance backgrounds in this country, says Chinthaka Panasinght, head of research at John Keels Stockbrokers.Its not a tradition.

Paula Green