Japan
By Thomas Clouse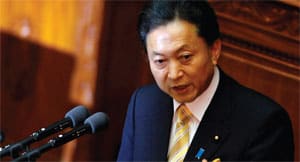 Hatoyama: Tough decision will be made a little easier with news of recent economic growth
Japanese prime minister Yukio Hatoyama and his Democratic Party of Japan (DPJ) swept into office in September with pledges to reduce government spending and bureaucracy, improve social infrastructure, promote regional cooperation and recalibrate the power dynamic with the United States. Only a few months into office, however, and Japan's economic and political realities are hindering Hatoyama's efforts to meet his campaign promises.
Japan's gargantuan debt is one of the key problems. Decades of infrastructure-related stimulus measures have given the country the highest public-debt-to-GDP ratio among the world's developed economies. Hatoyama has cut back significantly on this infrastructure spending, but signs that the cutbacks may be replaced with increases in social spending are already appearing.
Hatoyama's cabinet proposed a record ¥95 trillion ($1.06 trillion) in budget requests for the 2010 fiscal year, which begins in April. The process to cut expenses from these budgets will be a difficult one, especially in the context of an unstable global economy. The social measures proposed by Hatoyama, particularly the expansion of pension, healthcare, education and childcare benefits, are important ones for addressing some of Japan's fundamental economic problems.
Among those problems are low consumption and a low birthrate. The proposed increases in social outlays will relieve financial pressure from the country's consumers, allowing them to spend, and from potential parents, helping them afford to have children. Increased consumption is vital for weaning the country off its export dependence. Having more children is vital for sustaining the country's long-term economic prospects.
These are long-term goals, and Hatoyama must also keep his economy afloat through the current crisis. He received a boost last month with the Japanese economy reporting its second consecutive quarter of growth. But the past two quarters of growth have yet to compensate for the four quarters of contraction that preceded them. Beyond that, stimulus measures drove much of the recent growth, with incentives for purchases of automobiles and electronics pushing up consumer spending by 0.7%. This consumer spending increase will be tough to sustain once stimulus measures are rolled back, especially if the deflationary trends of recent months continue.
Hatoyama's foreign policy challenges are equally daunting. He has repeatedly called for greater regional integration in Asia. Japan, as the largest Asian economy, will face difficulty finding its place between its traditional ally, the US, and its rapidly growing neighbors—China, in particular. His meeting with US president Barack Obama last month offered little progress on key issues, including Hatoyama's reluctance to honor an agreement made by the previous administration to move US military bases to a new location on the island of Okinawa.
Despite the challenges, Hatoyama's approval rating stood above 70% in October. The public support will aid his efforts to re-orient the economy and foreign policy, but it will be his ability to maintain that support, while adjusting his priorities to Japan's realities, that will have the greatest impact.