MEXICO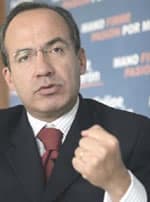 President-elect

Filipe Caldern

When Mexicos Electoral Tribunal in September declared Felipe Caldern the official winner of the nations hotly contested presidential election, it appeared that it would be smooth sailing until his December 1 inauguration. Instead, it seems Calderns headaches are only just beginning.
Caldern, a centrist from the ruling PAN party, won the July election with a meager 0.5% margin over former Mexico City mayor Andrs Manuel Lpez Obrador, a member of the left-wing PRD. Despite the tribunals ruling, Lpez called for civil disobedience and contested the outcome, vowing to establish a parallel regime.
A former energy minister, the president-elect has adopted some of his opponents rhetoric regarding poverty alleviation and social justice in a move to win over Lpez supporters while reportedly starting talks with opposition leaders to swap cabinet posts for congressional support. At stake are reforms the new administration must push through congress to boost Mexicos competitiveness amid mounting competition from Asia.
The narrow margin of Calderns victory could make it difficult for the new administration to implement its policy agenda, says Standard & Poors credit analyst Joydeep Mukherji. However, the uncertainty on the political front is balanced by Mexicos good economic performance in 2006 and its track record of macroeconomic stability.
S&P;, which affirmed Mexicos BBB sovereign rating after Caldern was declared the winner, predicts 2006 GDP growth of 4%, with high oil revenues helping the government meet its fiscal targets. The central bank expects GDP to grow by 4.5% this year, up from 2005s 3% and the strongest growth rate since 2000s 6.6%.
Mukherji warns that while Calderns ability to gain support for his reform agenda could further strengthen Mexicos rating, his inability to reduce the current level of political polarization could add medium-term fiscal pressures. Fortunately for Caldern, the prefunding of external debt falling due in 2006 and 2007 will provide some breathing room.

Antonio Guerrero