UNITED STATES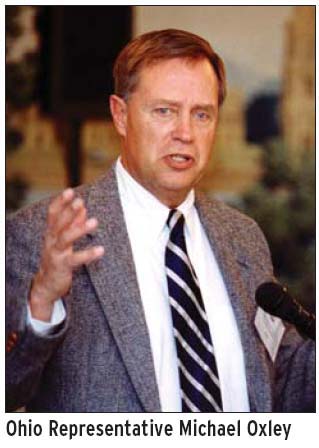 No one can accuse Representative Michael Oxley, the Ohio Republican of Sarbanes- Oxley fame, of shunning the media spotlight.The chairman of the House Financial Services Committee was back in the headlines in March, when he turned his fire on the mutual fund industry for allegedly not giving investors a fair deal.

At a hearing in Washington, Oxley chided fund leaders for raising their fees and expenses at a time when legions of middleclass shareholders have lost considerable sums of money in a falling market.

While there are political points to be gained on Main Street by attacking Wall Street, it can be a dangerous game. Grandstanding by ambitious and publicity-hungry political officials will not lead to healthy and responsible securities markets, Oxley said last year, referring to New York State Attorney General Eliot Spitzer. The New York official had just convinced Merrill Lynch to pay $100 million in fines and to cut the connections between its stock analysts and investment banking units.

Earlier this year Spitzer proposed expanding state laws to go beyond Sarbanes- Oxley to make securities fraud a felony in New York. Oxley again accused him of grandstanding, adding that Spitzers proposals would hurt the securities industry and cost jobs. Spitzer shot back: While Congressman Oxley purports to be defending our system of capital formation, he is actually undercutting that goal by opposing strong laws and aggressive enforcement against corporate wrongdoers. Spitzer said several of his bills would take provisions directly from the Sarbanes-Oxley Act and apply them to additional entities, such as unlisted companies.

Gordon Platt