United Kingdom/United States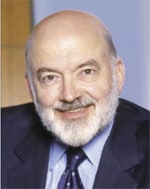 Perella: Sees major
opportunities
Joseph Perella's new investment firm looks well positioned to book some major deals in the Middle East. With petrodollars from around the world flooding into investments in the Gulf region (cover story, page 10), Perella Weinberg Partners was launched in London and New York last month with major backing from investors in the Arab world. A storied investment banker who quit Morgan Stanley as vice chairman a year ago and advised MBNA on its $35 billion sale to Bank of America two months later, Perella raised more than $1 billion for his new advisory and investment management firm. Some $100 million of that total came from Istithmar, an investment company owned by Dubai's ruling Al Maktoum family. Gulf Investment, a company owned by six Gulf countries, including Saudi Arabia and Kuwait, invested another $100 million. Japan's leading bank, Mitsubishi UFJ Financial, and eight family groups also put in money, according to Perella Weinberg.
"We have full faith in Joe and his team of seasoned professionals," Sultan bin Sulayem, Istithmar executive chairman, said in a statement. "With the growth and complexity of today's global financial services landscape, we believe our investment will be a great asset," he said. Istithmar will be looking to co-invest with Perella Weinberg on opportunities it finds attractive.
Perella's new firm has 11 partners, including Peter Weinberg, the former head of European business at Goldman Sachs. Lynn Perkins, a former Morgan Stanley managing director, will be chief administrative officer. A number of other former Morgan Stanley executives have also joined Perella Weinberg.
While some bankers are forecasting that mergers and acquisitions may soon peak, few are predicting a steep drop in oil prices. There could be a growing volume of business in the fast-growing Gulf region for the new firm, as the petrodollars keep flowing in.
Gordon Platt