SERBIA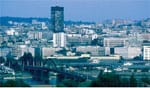 Belgrade: No rush of investors yet

From the fifth of this month, the former Yugoslav Republic of Ser-bia has a new and unelected president, 37-year-old Natasa Micic. As speaker of the Serbian par-liament Micic is standing in lieu of an elected offi-cial after three rounds of polling were each declared invalid due to low voter turnout.
Serbias institutional cri-sis endangers continuing reforms and foreign invest-ment in the Balkan state, the dominant partner in an unwinding Yugoslav feder-ation. Since Slobodan Milo-sevics ouster in 2000, the Serbian economy has been overhauled and legislative reform introduced. The government bailed out a decrepit banking sector, removed price controls and started to revamp the tax system.
That has lured some investors to take part in a rekindled privatization program as well as set up joint ventures. Among them: flooring products maker Tarkett Somer, con-sumer-to-adhesives com-pany Henkel from Ger-many, Frances Lafarge and tire company Michelin.
But present doubts over the countrys stability and commitment to carry on reform are hampering investment. An offer by Americas Nucarco to get defunct car company Zas-tava (makers of the Yugo) up and running again, and worth $150 million over three years, now looks less certain after political harry-ing last month. Phillip Mor-ris has yet to commit to locating manufacturing facilities in Serbia, despite the excitement that accom-panied the opening up of a Belgrade office in 2002.
Months of discussion between French telecom equipment maker Alcatel and Telecom Serbija have yet to yield any results.
Preoccupied with get-ting the election process back on track, Micic is unlikely to have much time to spend on the economic agenda.Thats bad news for overseas companies seek-ing to bring much-needed investment to an ailing economy.

BBM