Russia
By Kim Iskyan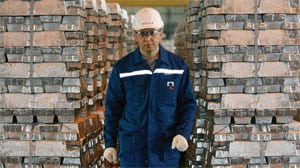 Heavy burden: Deripaska's empire is weighed down with debt
Oleg Deripaska's plans to float Rusal, the world's largest aluminum company, in a December IPO are facing serious turbulence. The company, according to some metals analysts, is in a questionable financial state, making the targeted valuation range of $20 billion to $30 billion sound fairly ambitious. According to press reports, Rusal posted a loss at the ebitda level in the first half of 2009, and the relatively modest recovery in aluminum prices has not given the company much breathing room. Former Deripaska business partner Michael Cherney is suing Deripaska in a London court over a 13% stake in the company, and a victory would upend the shareholder structure—and an IPO. Also, ongoing negotiations with more than 70 foreign creditor banks over restructuring terms for the $7.4 billion owed by Rusal were still under way as Global Finance was going to press.
On another front, Rusal assets in Guinea, Indonesia and Australia are coming under pressure from local authorities.
That the IPO, if it happens, will be on the Hong Kong and Paris bourses reflects doubts that Rusal could meet the more rigorous standards of the US or UK regulators. Finally, the abrupt withdrawal in mid-November of Goldman Sachs as a lead adviser in the deal will also unnerve some investors.
Excessive leverage and overexpansion at what turned out to be a cyclical peak are to blame for many of the problems Deripaska, once Russia's wealthiest oligarch, faces. But the Russian investment environment, despite some recent high-profile positive developments—like the resolution of the long-running battle between Norway's Telenor and Russian investment vehicle Alfa Group over Ukrainian telecom assets— has a long way to go before it is ready for prime time. Poor corporate governance, a lack of transparency, bureaucratic red tape and the predominance of personalized politics are the scourge of both international and domestic investors in Russia.