LATIN AMERICA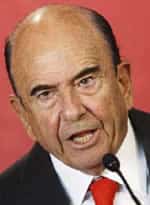 Sleepless in Madrid: Santander chairman Emilio Botin
Spanish banking giant Santander is struggling to contain the fallout from the more than $3 billion loss its clients sustained through the bank's investments in funds linked to disgraced New York fund manager Bernard Madoff. The bank has offered to compensate its private banking clients for their losses, becoming the first financial institution to do so. However, Santander clients in Latin America are holding out for more.
Giving an inkling of the troubles ahead for Santander, Spanish law firm Cremades & Calvo-Sotelo filed a class-action lawsuit against it in US federal court in Miami on behalf of disgruntled investors. Another law firm, Estudio Borda Abogados, has filed another collective lawsuit in Buenos Aires, while some of the bank's clients are reportedly considering taking legal action against individual Santander salespeople. Argentine investors lost an estimated $700 million. Lawsuits are expected in other Latin American markets.
Santander's Latin American clients lost some $2.1 billion through Madoff-linked funds, namely Santander's Optimal Strategic US Equity Fund. Investors say Santander did not do appropriate due diligence on Madoff. While Santander clients lost more than $3 billion worldwide, the bank itself lost a relatively small $23 million through Madoff-linked funds.
The bank has offered to compensate clients by giving them Santander preferred shares that yield an annual 2%, which many say is far below market rates for comparable securities. The compensation scheme has been offered to private banking clients but not to institutional investors.
In exchange for accepting the compensation offer, clients must agree to drop their lawsuits and maintain Santander as their "preferred" bank for the term of the securities, which could be indefinitely. The shares can be called after 10 years, though the bank is not obligated to do so. Clients charge the bank has been using pressure tactics to persuade them to accept the offer.
While they may be wary of the public relations implications, other banks that invested clients' funds with Madoff will be watching Santander closely, as its compensation offer is not expected to affect its operating assets. With Latin America considered an important revenue source for Santander, the bank will have to work hard to satisfy investors. While Madoff himself awaits trial, Santander chairman Emilio Botin is probably experiencing some sleepless nights.
Antonio Guerrero