United States
By Gordon Platt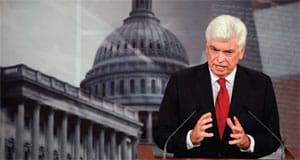 Dodd: Taking direct aim at Fed's supervisory role
The chairman of the Senate banking committee, Connecticut Democrat Christopher Dodd, has taken dead aim at the Federal Reserve's authority to supervise banks in what could be the opening salvo in a battle by politicians to gain control over the setting of US monetary policy. Calling the Fed "an abysmal failure" at bank regulation, Dodd introduced a 1,136-page bill on November 10 that would overhaul the US system of financial regulation and curb the Fed's ability to make emergency loans to bail out individual companies.
The bill would combine parts of the Fed, the Federal Deposit Insurance Corporation, the Office of the Comptroller of the Currency and the Office of Thrift Supervision into a single US bank regulator. "This proposal will create a new architecture to make our financial institutions more transparent, more responsible and more accountable to the American people," Dodd says. The bill is not designed to punish the Fed, he adds, and is not a threat to the Fed's independence.
Nonetheless, it goes well beyond proposals by the Obama administration and by House financial services committee chairman Barney Frank. Dodd's bill, for example, would strip commercial banks of their power to appoint directors of the regional Fed banks. While the Fed would retain its control over the money supply and short-term interest rates, these tools could become less effective in a future system where leverage and other controls over bank lending could take on greater importance.
Some fear that if the Fed were to lose its independence, financial market participants could become so worried about future inflation that they would dump dollar-denominated assets, creating an even worse crisis of confidence in the financial system.
The Fed's independence could also be threatened by a separate proposal by Representative Ron Paul, a Texas Republican, which would allow Congress to audit the central bank. That bill has gained the support of hundreds of lawmakers. While the Fed bears some blame for the financial crisis, there could be much more to be lost by putting politicians in charge of the punch bowl.