NIGERIA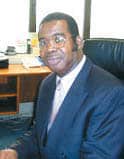 Omiyi: Hopes to heal rifts

It remains to be seen whether Royal Dutch/Shells move to appoint a Nigerian as head of its largest African subsidiary will soothe the labor and ethnic groups who regularly threaten oil production in the volatile Niger Delta region. But analysts laud the oil giants decision to write a bit of history by appointing 58-year-old Basil Omiyi as managing director of Shell Petroleum Development Co. of Nigeria.
Omiyi will become the first Nigerian to hold the managing director post of the Lagos-based company that is producing more than a million barrels of oil a day in this West African nation. Shell examined their management, and theyre trying to place the best people in the right places, and they are aware of the difficulties of the region, says Tina Vital, integrated oil and gas equities analyst at Standard & Poors in New York.It remains to be seen if this will have the impact they want and they can form a gentler and positive approach to their problems.
Those problems are significant, ranging from industrial disputes and ethnic clashes to the sabotage of wells and even the kidnappings of oil workers by militants. But Omiyi appears well equipped to handle these contentious issues and brings a broad perspective on the oil industry to his new job. A native of Edo state, which is part of the controversial Niger Delta, Omiyi has climbed Shells corporate ladder since 1970, with posts at home in Nigeria and at company bases in London and The Hague. As a petroleum engineer, he is grounded in the technical side of the oil business. He also brings years of experience in dealing with the restive communities that populate the volatile Delta region.
While he was general manager, relations and environment, in the mid-1990s, Shell was under fire repeatedly for environmental offensesincluding those that triggered the protests by the Ogoni community that led to the execution of Nigerian environmentalist and writer Ken Saro Wiwa. Omiyi worked to strengthen the companys relations with the surrounding community and state governments and gained the negotiating skills that led to his appointment as external affairs director in 1999 and as production director two years ago.

Paula L. Green