Japan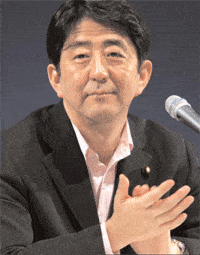 Shinzo Abe: Favorite to take

the top job

Japans chief cabinet secretary Shinzo Abe, 51, is both soft-spoken and outspoken. He could be about to get a much more powerful voice. As a popular member of a prominent political family, he is the frontrunner to become president of Japans ruling Liberal Democratic Party when Prime Minister Junichiro Koizumis term ends later this month. Whoever wins the LDP presidency is almost certain to be named prime minister by the Diets LDP-dominated lower house.
As Global Finance went to press, finance minister Sadakazu Tanigaki was the only announced candidate to succeed Koizumi, but Abe was a strong favorite in the polls. Foreign minister Taro Aso also was expected to throw his hat into the ring.
Assuming that Abe does become Japans next prime minister, he is likely to lead a more assertive nation on the world stage. He already has called for sanctions against North Korea and has defended Koizumis controversial visits to the Yasukuni shrine, which honors Japans 2.5 million war dead, along with 14 top World War II war criminals.
Abe also has expressed his willingness to revise Japans pacifist constitution, which was imposed by General Douglas MacArthur, who ruled postwar Japan as supreme commander of the Allied forces. If elected, Abe will face a tough task in convincing China and South Korea that Japans re-emergence as a so-called normal country with self-defense forces wont upset the balance of power in the region.
Meanwhile, Japans problems at home, including its huge debts and the retirement and healthcare demands of its ageing population, will be added to the difficulties posed by deteriorating relations with its neighbors. The countrys next prime minister will have his hands full, even if the economy is finally doing better after a decade in the doldrums.

Gordon Platt