UNITED STATES

Sex, money and power have always been closely related, and on a recent morning in New York City the three came together in the heart of the financial world. While traders were taking a well-deserved break, the New York Stock Exchange was playing host to the cast of the television series Sex and the City, who were filming the opening episode of their sixth and final season.

In the scene the actress Sarah Jessica Parker rang the bell that traditionally opens each day of trading on the exchange, as the fictional newspaper that employs Parkers characterCarrie Bradshowwent public. The filming gave NYSE chairman Richard A. Grasso a chance to show his acting chops as he played none other than himself. Although not always present when the opening bell sounds, Grasso found time to stand on the famous NYSE podium with Parker, who plays a New York City newspaper columnist in the notorious television show that exploresor exposessex and relationships in the Big Apple.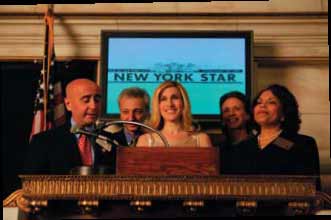 The show ran on Home Box Office (HBO) the night of June 22 and opened the series final season. To maximize publicity, Parker made a real-time appearance with Grasso on the stock exchange floor two days earlier and rang the bell that opened that days trading of equities. Everybody in the cast was very excited to be a part of the New York Stock Exchange, says a spokesperson for HBO, which is a division of AOL Time Warner and a listed member on the exchange. She refused to reveal if Grasso and Parker bonded but added that there had to be lots of exchanges between them as Grasso, Parker and others took several hours to complete filming.

Grassos spokesperson, Ray Pellecchia, was tight-lipped about the encounter, explaining that Grasso wasnt available to give an interview about his first experience as an actor on television. But apparently, and not surprisingly, Grasso was delighted to fill AOL Time Warners request to work on the exchange floor. The HBO spokesperson said that nights episode explored why people keep investing in relationships despite all the ups and downs of romance.

Paula L. Green