UNITED STATES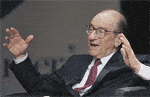 Alan Greenspan: Introducing his own turbulence to the markets.
Talk about good timing. Alan Greenspan's memoirs, entitled The Age of Turbulence, topped the bestseller list at Amazon.com last month as volatility continued to rattle global financial markets and the Federal Reserve made headlines with a sharp cut in interest rates in an attempt to restore stability, if not exuberance, and to thaw the frozen credit markets.
Penguin Press showed little aversion to risk last year when it agreed to pay the former Fed chairman an advance of more than $8.5 million, second only to the $10 million advance former president Bill Clinton got for his memoir, My Life, which was published in 2004. In his book, Greenspan calls Clinton and Richard Nixon the most intelligent presidents he dealt with during his more than 18 years at the Fed.
First appointed Fed chief by Ronald Reagan in August 1987 to fill the very big shoes of Paul Volcker, Greenspan was confronted almost immediately with the Black Monday stock market crash. While he passed that test with flying colors and oversaw a period of sustained economic growth in the 1990s, which ranks as one of the longest in US history, he wasn't always an economic guru. He failed to foresee or stop the dot-com bubble that burst in 2000, or the recent housing correction, which followed a real estate boom fueled in part by the Fed's 1% interest rates in 2003.
Meanwhile, as Greenspan was signing books in mid-September, his successor Ben Bernanke was dealing with the fallout from the subprime mess. Global Finance gave Greenspan a grade of C- in his last Central Banker Report Card in 2005, noting that he had been criticized for not sounding the alarm bells sooner. You can read all about how we rate his successor and other central bankers as they struggle to help their economies recover from this year's financial turmoil, starting on page 102.
Gordon Platt