RUSSIA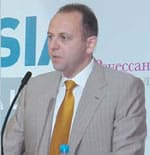 Pumpyansky: Rattling

investors

The worlds third-largest oil and gas pipe producer Trubnaya Metallurgicheskaya Kompaniya (TMK) is heading to market in London and Moscow in November with a price tag of up to $4 billion. But the deal will be launching only after its chairman has performed a bit of financial wizardry allowing him to increase his stake in the company without having to put up much of his own capital.
Until the beginning of October, TMKs chairman, Dmitry Pumpyansky, owned 67% of TMK through a vehicle called TMK Steel, while a financial investor called Dalecone owned the remaining 33% stake. Pumpyansky wanted to purchase part of Dalecones stake but did not have the funds.
The neat solution from his point of view was that TMK borrowed the funds through a eurobond and a high-yield loan and then lent the proceeds to Pumpyansky for long enough to allow the IPO to occurwhen he will sell part of his enlarged stake in order to finance the purchase of the rest. Although the price of Dalecones stake hasnt been released, it can be assumed that it was lower than the price international investors will pay when the company comes to IPO.
While this sort of maneuver is not unprecedented, it is certainly unusual, according to equity capital markets bankers. Normally, a majority shareholder would have to increase his or her stake through the IPO and pay the same price as everyone else.
Perhaps more worrying for potential investors is the impact TMKs borrowing will have on its financial profile. At the beginning of September, ratings agency Standard & Poors indicated that TMK might be downgraded as a result of this increased leverage if the IPO did not take place before the end of the year.
TMKs CFO, Vladimir Shmatovich, says that investors have nothing to worry about regarding the borrowing on behalf of Pumpyansky. The loan to Pumpyansky will be repaid rapidly, and the company will use the proceeds as was originally intended, he says. He adds that investors in the IPO should be comfortable with the way in which Pumpyansky increased his stake in TMK. They will recognize that it has not been detrimental to the company in any way, he says. After all, investors will be buying the post-IPO story, and what has happened before that is not their main concern.

Laurence Neville