United states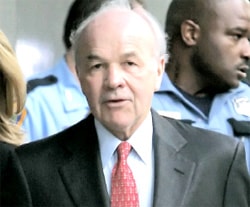 Ken Lay arriving at the courthouse

The landmark trial of Jeffrey Skilling, Enrons former chief executive, and Kenneth Lay, its former chairman, could have a widespread effect on corporate governance in America and the confidence of investors in financial markets. One would never know the stakes were so high, however, judging by the empty seats in the courtroom when the Enron trial finally opened, more than four years after the company collapsed in December 2001, destroying thousands of jobs after it was revealed that an estimated $40 billion in debts had been hidden in secret accounts. The Houston courtroom of US District Judge Sim Lake was seldom more than three-quarters full in February, and the trial is expected to run well into May.
The case may yet grab the attention of the American public, however, once the governments star witness, Andrew Fastow, former chief financial officer and the architect of Enrons

off-the-books partnerships, takes the stand. Television ratings will surely rise if Skilling and Lay testify in their own defense, as they say they will, to prove their innocence.
One of the early witnesses, Ken Rice, former CEO of Enron Broadband Services, said that he had lied to Wall Street analysts, his employees and the companys board about how the EBS business was faring. I knew that Mr. Skilling and I had misled investors on a number of occasions about the prospects of our business at EBS, he said under cross-examination. Skilling is facing 31 charges, including conspiracy and fraud. Lay, once one of Houstons most respected philanthropists, is facing seven charges.
Skilling and Lay are expected to testify that they truly believed that Enrons prospects were as bright as they portrayed them, even when the company was on the brink of disaster. The prosecution could have a difficult time of proving the defendants were lying, especially when they are forced to rely on witnesses who admit they were lying as well.



Gordon Platt