United Kingdom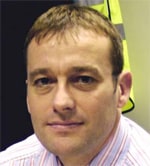 Davy: Scrapping computers is a huge
resource drain
Businesses are facing increasing pressure to consider the environmental impact of their IT purchasing habits as awareness grows of the vast amount of natural resources used in the production of computing equipment.
With more than 260 million new computers produced globally every year, almost half a billion tons of natural resources are used annually to manufacture computer components such as circuit boards and connectors. The strain on natural resources will only grow as global demand and reliance on technology increases, says Sims Recycling Solutions, a leading recycler of ferrous and non-ferrous metals and electrical equipment.
According to a study by the United Nations University, the manufacturing of one desktop computer and a 17-inch CRT (cathode ray tube) monitor consumes at least 530 pounds of fossil fuels, almost 50 pounds of chemicals and 3,300 pounds of water. "When one considers that 40 tons of copper ore and 15 tons of gold ore need to be mined and refined to make just 1 ton of computer equipment, then one can see the huge drain on the earth's natural resources, says Graham Davy, chief executive of Sims.
In the United Kingdom, recycling of computer equipment is now subject to regulatory scrutiny as part of the six-month-old Waste Electrical and Electronic Equipment (WEEE) Directive. The WEEE regulations apply to a range of electronic household appliances, IT and telecommunications equipment, lighting, electrical tools and medical equipment, and encourage the reuse, recovery, recycling and sound environmental disposal of electronics. The regulations also make producers of such equipment responsible for its environmental impact. In the UK alone more than 1 million tons of electrical and electronic equipment waste is dumped in landfill annually.
Davy says computers can be refurbished and used again within an organization, or the materials in the redundant machines can be stripped down, recycled and used in the production of new machines. He also stresses the need to educate businesses about the importance of recycling. Although the WEEE Directive is designed to do this, he says that take-up and knowledge of the new law is extremely poor. The government, consumer groups and the world of business all need to start educating consumers and organizations about the benefits of recycling, he says.