UNITED STATES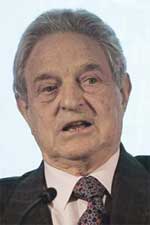 George Soros: The "scariest" part of the current turmoil is CDSs.
George Soros, founder and chairman of Soros Fund Management, warned the World Economic Forum in Davos in January that the world is facing its worst financial crisis since World War II. He now says the scariest part of the financial turmoil is the huge and unregulated market in credit default swaps (CDSs), which offer investors protection from corporate defaults. The volume of outstanding credit derivatives reached $62 trillion at the end of last year, 10 times the level of four years earlier and roughly the equivalent of the entire world's annual GDP, according to International Monetary Fund estimates.
"There is an urgent need for a clearing house or exchange where these trades are registered and settled according to well-established rules," Soros said in a conference call last month to discuss his 10th book, The New Paradigm for Financial Markets: The Credit Crisis of 2008 and What It Means.
Soros says market participants trading CDS products need to know the identity of the counterparties to their trades and if they are able to honor their contracts. It is the lack of such information that is at the bottom of why banks don't want to lend to each other, he says.
Dealers in the over-the-counter market for credit derivatives are opposed to letting the exchanges take over their business. They might find more palatable a proposal being sketched out by Perry Mehrling, professor of economics at Barnard College of Columbia University in New York. Mehrling says the time has come for a discount facility for these instruments as a way of providing a backstop to the market.
"While Soros is worried about reducing counterparty risk, the wild volatility in the CDS market has been driven by lack of liquidity," Mehrling says. If a central bank were to specify which of these derivatives it would be willing to discount, they would become quality assets and there would be no liquidity problem, according to Mehrling.
Gordon Platt