United States/European Union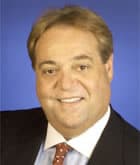 Pat White
Just when currency traders thought the euro was about to get over its recent woes, the beleaguered single currency has fund itself in another crisis. This time, however, its an identity crisis. In a lawsuit filed with the European Court of First Instance in Luxembourg, Document Security Systems, a Rochester, New York-based provider of products to prevent counterfeiting of currency and other vital records, says the ECB used its patented anti-counterfeiting technology without permission.
The company says the ECB should pay it a reasonable royalty for every euro banknote in circulation for infringing its European Patent 455750B1. The patent, which was granted in 1999, covers a method of protecting banknotes against forgeries by digital scanning and copying devices.
Our patents are among our companys most valuable assets, and we have an obligation to protect them and a right to be paid when our technology has been used, says Patrick White, CEO of Document Security Systems.
The earliest date the case may come to trial is December 31, 2006, by which time the ECB is expected to have printed about 30 billion euro notes. Even a small royalty would add up to a considerable sum when multiplied by 30 billion, White says.
Ongoing royalties from licenses are an important source of revenue for our company, and enforcement of our patent rights is key to our long-term business success, White says.
The ECB, the guardian of the euro, is planning to put into circulation before 2010 a new generation of euro notes that will be secured with electronic microchips. A spokesperson for the bank had no immediate comment on the lawsuit.
Meanwhile, the US companys technology appears to be working. A total of 293,000 forged euro notes were pulled out of circulation in the first six months of this year, down from 307,000 in the same period a year earlier. This is a small fraction of the 9 billion genuine banknotes currently in circulation.

Gordon Platt