UNITED STATES/CHINA
By Gordon Platt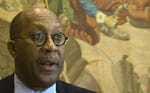 Kirk: Facing key decision on trade barriers
US Trade Representative Ron Kirk hailed the World Trade Organization's dispute panel's ruling in August against China's system of importing and distributing books, magazines, films, DVDs, video games and sound recordings. "Today, a WTO panel handed a significant victory to America's creative industries," Kirk said. "This decision promises to level the playing field for American companies working to distribute high-quality entertainment products in China."
The Obama administration has made it clear that it sees extraordinary opportunities for job creation in the United States by shrinking the trade gap with China, which reached a record $268 billion last year. The big question is whether the administration will concentrate on tearing down trade barriers or go further to erect new ones against China's exports. Kirk must decide by early September whether to recommend to the president that the US should put a tax on tire imports from China, under the Section 421 safeguard provision of US trade law. The US International Trade Commission has already recommended to Obama that a 35% to 55% duty be levied on imports of light truck tires from China for the next three years to protect the US domestic industry.
The Bush administration was reluctant to use the 421 safeguard provision on ideological grounds of supporting free trade and opposing import relief, but Obama has said he will judge safeguard cases on their merits. If the tiremakers get relief, the US textile industry will be next in line.
Congressional leaders have been pressuring Obama to take a harder line on trade with China. Kirk has promised to apply trade remedies fully and fairly as provided for under WTO rules. The way the USTR approaches disputes with China will be an important example of the administration's new focus on enforcement, Kirk says. "USTR intends to move more aggressively to ensure the rights of the American exporters," he told a meeting in June of the US-China Business Council. Trade war, anyone?