UNITED STATES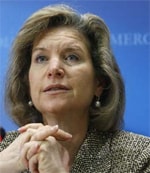 High hopes: Schwab looks to trade agreements to bolster US economy.
Following the collapse of the Doha Round of world trade talks this summer, the United States is pinning its hopes on new bilateral trade agreements to take up the slack. Its point person is Susan Schwab, the US trade representative, who holds the rank of ambassador.
Schwab was making hay while the sun shone last month, when June data showed that US exports reached $164 billion, the highest level in the country's history. She said the numbers reaffirmed the international competitiveness of US goods and services. "The increase of US exports has provided much-needed support to the health of our economy," she added.
"To encourage further growth in our exports, Congress needs to act to level the trade playing field for American workers, farmers and entrepreneurs in three key markets—Colombia, Panama and South Korea," Schwab said. "I look forward to continuing my work with Congress to get these agreements passed once it returns in September."
One reason for the competitiveness of US exports in world markets is the historically low level of the dollar against the currencies of America's main trading partners. This advantage began to slip away last month, however, as the dollar made significant gains in foreign exchange markets amid indications of slower economic growth in Europe and a report that Japan's second-quarter gross domestic product contracted at a 2.4% annual rate. Europe and Japan are two of America's biggest export markets.
With a stronger dollar and slower global growth, the boom in US exports could begin to slow, according to some economists. Others say the dollar's gains would need to be sustained for a longer period before they would have a significant effect on exports. Without the boost from trade, the US economy almost certainly would already be in a recession, economists say.
Gordon Platt