Russia
By Kim Iskyan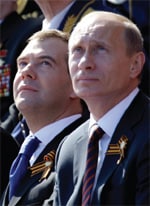 United front: Putin and Medvedev stand together
Outside of Hollywood, there are few relationships that are watched more closely than that between Russian prime minister Vladimir Putin and his protégé—and boss, theoretically— president Dmitry Medvedev. The question of whether the potentially awkward tandem that rules Russia is working is once again at the top of the agenda for investors, who are fearful of the instability and uncertainty that would result from volatility at the apex of the Russian power pyramid. Recent discussion about who will run for president in 2012 suggests that there is a lot more uncertainty ahead.
The root of the issue goes back to December 2007, when Putin opted to take the ostensibly more democratic route of not changing the Russian constitution to allow himself to run for a third consecutive term. He instead anointed Medvedev as his preferred successor. Surprising no one, Medvedev strolled into the Kremlin in a virtually uncontested election and, a few months later, named Putin as prime minister.
There has never been any question that Putin is the dominant partner in the relationship. Medvedev has no independent bureaucratic or popular power base. Medvedev has sometimes displayed his more liberal credentials— while still staying within the lines of Russia's soft authoritarian approach to government.
Putin recently said that he and Medvedev would decide who would run for president in 2012. Medvedev subsequently chimed in that he might run again and raised the possibility of swapping jobs with Putin. Given the sky-high popularity ratings of both, there is little doubt that voters will rubberstamp their decision.
Speculation about a rift between the two—in true post-Soviet Kremlinologist form, analysts dissect everything from minor policy differences to how Putin and Medvedev hug each other— has so far proven off-base. Given the stakes, for each man personally as well as for the country, the odds are good that they will present a united front. But investors will be hyper-aware of even the smallest sign of a split, and asset valuations in Russia may come under pressure if there is any sign of rising political uncertainty.