UNITED KINGDOM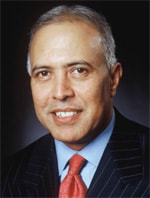 Arun Sarin

Embattled CEOs of the world must have been pleased last month when one of their own, Arun Sarin of Vodafone, tightened his grip on the company and put down a boardroom revolt that had threatened his ability to move the struggling British mobile phone behemoth in a new direction. Sarin not only won a public expression of support from the companys chairman, but he also forced out Sir Christopher Gent, the honorary life president and former chief executive who built Vodafone into the worlds largest mobile phone services provider through an ambitious series of acquisitions.

Sir Christopher severed his links with the company, denying that he had used his honorary position to interfere with the running of the firm. Lord Ian MacLaurin, chairman, will step down in July and will be replaced by Sir John Bond, chairman of HSBC Holdings.

India-born Sarin, who was educated in the United States and was former president of Airtouch Communications, the wireless unit of Pacific Telesis, was named CEO of Vodafone in 2003. Days after calling the bluff of the old guard at Vodafone last month, he agreed to sell the companys Japanese cell phone unit to Tokyo-based Softbank in a deal valued at $15.4 billion. Vodafone said that after the sale it would return $10.5 billion to its shareholders, who have been sullen following the companys slowing revenue growth and slumping share price.

The sale of the Japanese unit marked a clear retreat from the expansionist policies of Gent and bought Sarin some time to shore up Vodafones core European operations. Sarin may be under less pressure now to accept an offer from Verizon Communications of the US for Vodafones 45% stake in Verizon Wireless. The lesson in this for CEOs may be that they need to act boldly when their authority is challenged or they may find it impossible to lead.

Gordon Platt