CHINA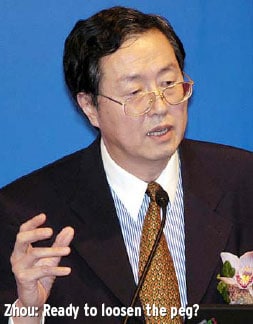 Zhou Xiaochuan, governor of the Peoples Bank of China, said in mid- February that Chinas exchange-rate mechanism would be revised this year. Zhou indicated that the yuans level on currency markets would be made more flexible, ending its rigid peg to the US dollar.
Chinas chief central banker made his comments at a committee meeting at which the countrys monetary policy for 2004 was decided. Analysts say the fact that the official Xinhua news agency reported his comments gave them special credence.
Meanwhile, as Global Finance was going to press, China agreed to receive a delegation of US Treasury officials to discuss how China could reform its foreign exchange system, making good on a promise last year to John Snow, US Treasury secretary. While China does not want to be seen as bowing to foreign pressure to revalue the yuan, analysts say it does want to avoid further trade friction with the US and to gain better control over its own money supply. The central bank announced a series of measures to slow bank credit and reform the debt-laden banking system in preparation for an eventual change in the exchange-rate mechanism. Zhou also said China would make it easier for its companies to acquire dollars in exchange for yuan to invest abroad.
Chinese officials were quick to deny a report in the semi-official China Business Post that the country was preparing to allow a 5% revaluation of the yuan against the dollar this month, but analysts believe China is getting ready to loosen its currency peg later this year. They note that Zhous remarks were the first to offer any timetable for reform other than eventually or in a relatively long time, as he has said previously.

GP