UNITED STATES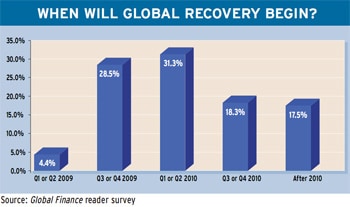 As the credit crisis deepens and government measures to kick-start bank lending fall short of the mark, the mood among company CEOs, particularly those with operations in Europe and Asia, is beginning to darken. These are the latest findings from a series of surveys Global Finance has conducted since September 2008 of subscribers comprised largely of CEOs from non-financial and financial companies with headquarters in the Americas, Asia and Europe.
In the fifth survey, conducted from January 13 to 16 of this year, more European companies indicated that they had tightened their credit policies, and Asian companies were increasingly pessimistic about their prospects. In January's survey, approximately 43% of European companies indicated their companies had tightened customer credit. Yet in last November's survey only 29% of European companies had tightened credit.
While in previous surveys Asian companies were more optimistic than overall respondents, according to January's survey they are now as pessimistic as everyone else. Asian companies, at 37%, are also more inclined to pay their bills more slowly, compared to 31% for all respondents.
However, Asian companies were slightly more optimistic regarding the length of the credit crunch, with 66% saying it will end within 12 months, compared to 61% for all respondents. South American companies were the most upbeat, with 72% saying the credit crunch will end within 12 months. They were also more optimistic about the global recession, with 40% saying it will end in 2009, compared to 33% for all respondents.
A survey of 7,000 privately held businesses across 36 countries by global audit, tax and advisory firm Grant Thornton International also showed increasing pessimism. Its "optimism/pessimism barometer" recorded a negative balance, -16%, compared to +40% a year earlier, marking the first time the number of pessimists has outweighed optimists since the survey began in 2003. The survey also turned up huge disparities between developed and developing countries, with US company execs being more pessimistic (-34%) than mainland Chinese companies (+30%). Japanese companies were even less optimistic at -85% compared with +83% for Indian companies. In general, emerging markets remained more optimistic, with India, Botswana (+81%) and Brazil (+50%) topping the list.
Anita Hawser